Creative Builders was founded in 1971 by William H. "Billy" McCauley II, as a general contractor in Greenville, SC. Today Creative Builders is licensed in South Carolina, North Carolina, Georgia, Virginia and Tennessee and is one of the fastest growing commercial builders in the region.
As general contractors, we are extremely proud of our highly diversified portfolio and our quality reputation – the work of a dedicated team of employees who live up to the Creative Builders name every day on every project.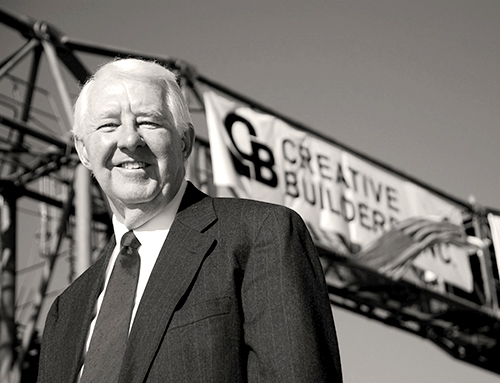 William H. McCauley II
1942 - 2012
Our philosophy is simple: To gain the confidence of our clients in an "open book" environment based on trust and professionalism, maintaining honesty, open communication and quality workmanship with a partnership attitude to deliver the highest quality of workmanship.
Our hands-on project management approach is how we confidently keep our quality, budget and scheduling commitments.
Dedication, Honor & Integrity
Award Winning: Recognized as one of top 25 fastest growing companies in the state
Loyalty: Employees average 15+ years of service
Commitment: More time spent on jobsites to ensure our hallmark "personal touch"
Respect: 85% of the business is negotiated through referrals from former clients, architects and engineers.
Safety: Lowest safety mod. rating in the industry with a boasting 0.76.
Pride: Promote pride in workmanship on all our jobs